Fortaleza Bus Terminal
What you need to know about buying your tickets and
choosing the best buses.
BUYING YOUR TICKETS:
Fortaleza Bus Terminal has an information booth which is very helpful if you speak portuguese. If not you may try writing your question on a piece of paper and ask them to write the answer down for you.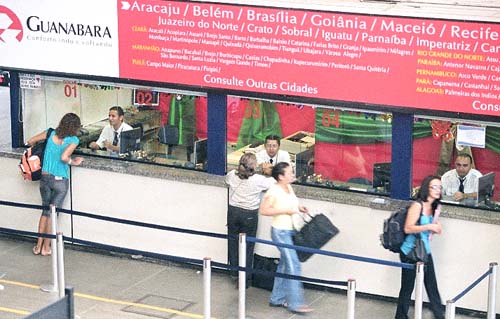 The bus companies all have signs complete with there destinations so that simplifies things bit. But you still have to sort out fares and departure times.
If your traveling in December or January, during Carnaval, July or a Holiday Weekend. You may want to buy a round trip ticket if your sure about your return date!
The buses are often full and you can get stuck waiting a day or two for a seat coming back. IMPORTANT if you have a plane to catch!
Before you purchase your ticket make sure you double check the time of departure and the date. (The time is always in the 24 hour format. Example: 18:00 or 6 P.M).
Check the date as well if you are buying a ticket in advance. Dates are written with the day first here in Brazil (day,month,year). Which can be very confusing.(Example: 1/4/2018 is NOT January 4, 2018 but April 1, 2018
It is less confusing after the 12th of the month when you have a number 13 or higher in the first box. Example: 16/04/2018 or April 16, 2018)
CHOOSING THE BEST BUSES:
A few words of advice based on living in Fortaleza for over twenty years.
The best buses are the safest buses. The roads get progressively worse
as you get out of the city.
Traveling by bus is relatively safe
but breakdowns and accidents are not unusual.
The chances are much greater at night when the drivers vision is limited and there are more people driving under the influence
of alcohol.
Traveling by day cuts the odds
to near zero for a breakdown or
accident and you get to enjoy
the scenery along the way!
When possible try to keep your trip to 8 hours or less so you arrive at your destination before dark.
Fortaleza Bus Travel
What you need to know about getting to and using
The Fortaleza Bus Terminal!
Fortaleza Bus Companies
Helpful advice and Tips on choosing the best Fortaleza Bus Companies
to the beaches along the Coast of Ceara.
Fortaleza Interstate Bus Companies
Tips on choosing the best Fortaleza Interstate Bus Companies to the bordering states, Maranhao, Belem De Para, Salvador, Fortaleza-Rio De Janeiro, Sao Paulo.
---

Telephone/Whatsapp +55 (85) 99724-4111
Email: reservas@fortalezabeaches.com

Telephone/Whatsapp +55 (85) 99724-4111
Email: reservas@fortalezabeaches.com