Fortaleza Beach Park
It makes perfect sense why Fortaleza Beach Park Resort together with Brazil's best climate and beaches is the number one family destination for Brazilians on holiday! Beach Park is a place that will forever live in the hearts and minds of those that visit. The largest Aquatic Park in South America is located in Porto Das Dunas.
The complex now includes 4 Accomodations options, Acqua, Suite, Wellness and Oceani. The four hotels together include over 1000 apartment-suites that meet the highest international hotel standards.
If you haven't already booked your accommodation with Fortaleza Beach Park Resort. There are apartments owned privately in each hotel and you can book direct with the owner at at a discounted rate with Fortaleza Beaches. Enter in contact with us to get local Beach Park Resort discounts for overnight stays here!
Up and running since 1989.
Over 700 000 people pass
through the front gate of
this tropical playground
annually.
For children who live in and around Fortaleza "Beach Park"
is synonymous with the word fun !
Fortaleza Airport-Beach Park Resort Private Car Service R$ 85,00
Passengers will be welcomed by the driver
holding a sign with their name on it.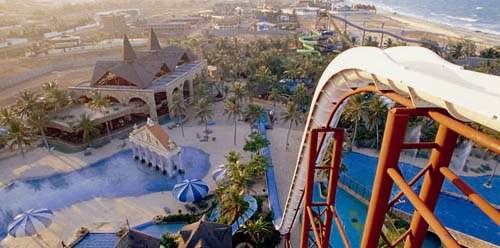 The Insano (to the right) is the highest water slide on the planet at 41 meters high and listed in the Guinness Book of Records.
My family and I visit the park at least 2-3 times a year when friends are visiting from out of town and for my daughters birthday party. She refuses to celebrate anywhere else!
If you are traveling to Fortaleza with children you can buy "daily passes" at the park entrance gate.

Rates for a Day Pass are the following:

Adult: R$ 225,00

Children 12 and under: R$ 215,00
(proof of age required)

Students: 20 % Discount ISIC International
Student Identification Card Holders

Senior Citizens: Over 60 (50 % Discount)
(proof of age required)
THE BEACH
A large open air structure includes a restaurant specializing in seafood, crab and traditional northeastern dishes, an ice cream parlor, beach shop and a surfing school.
The resort has over 600 meters
of Porto das Dunas spectacular
beach reserved for its guests.
The complex is ocean front, self sufficient and only 16 kms from the capital. Giving you the opportunity to spend as much time as possible either at the park or on one of Fortaleza's most beautiful stretches of beach!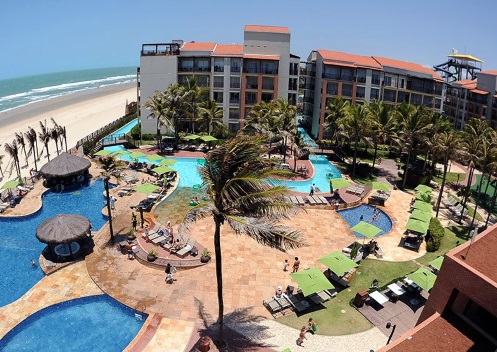 Reservations for Acqua Beach Park Resort here !.

RESTAURANTS
There are several restaurants conveniently located throughout the complex. All accept credit card.
Beach Grill
Specialties are seafood, fish, and grilled meats, served in buffet style. The restaurant is air conditioned with a seating capacity of up to 1000.
Beach Burger
The park's fast-food restaurant serves hamburgers, soft drinks, water and beer. Located in front of the Insano.
Click on this video and get a birds eye view of all
this amazing complex has to offer!
CONVENTION CENTER
If you are hosting a business convention. There is no better place to combine business with pleasure.
The adjoining Convention Center
with 4 large halls can hold up to
450 people.

Offers full restaurant/buffet,
event production services,
along with state of the art
sound and image equipment.
Beach Park is affiliated with the International Association of Amusement Parks, the World Waterpark Association, and ABIH The Brazilian Hotel Industry Association.
---


Fortalezabeaches.com is registered with the Ministry of Tourism.
Embratur Certification. No. 06.026202.10.0001-7.

Telephone/Whatsapp +55 (85) 99724-4111
Email: reservas@fortalezabeaches.com

Telephone/Whatsapp +55 (85) 99724-4111
Email: reservas@fortalezabeaches.com