Choosing a Fortaleza Car Rental
What you need to know before choosing a
Fortaleza Car Rental Company.
You want to choose a Fortaleza Car Rental Company based on their rates, insurance coverage (deductibles), service and vehicle availability. If you are renting for 2 weeks or less, your best bet is definitely with a major company.
You must have a Passport Valid Drivers License, Credit Card and be 21 years of age.
You may get a better daily rate from the smaller companies but in the event of a breakdown or accident they will probably fall short of the big companies on support or roadside assistance.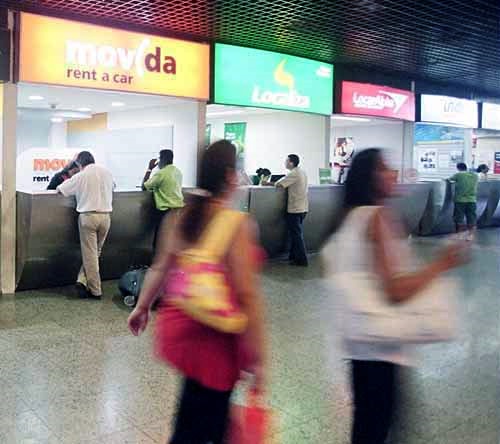 The Main Level at Pinto Martins International Airport Fortaleza
Fortaleza Airport-Hotel Private Car Service
Passengers will be welcomed by the driver
holding a sign with their name on it.
Vehicle Availability
Most Companies in Fortaleza have more or less the same vehicles to choose from. All cars in Class A and C are standard shift! Think about what kind of vehicle you need. How many passengers will be traveling with you? Are you carrying extra gear?
The smaller class A cars have room for 4 adults and 1 child with very little room to spare for luggage. You may want to upgrade to a Class C car with 4 doors, air conditioning and power steering.


Fortaleza Car Rental Contracts
Car rental insurance contracts are complicated enough. Here in Fortaleza they are usually in Portuguese. There may be some with clauses in English. Make sure you understand all Terms and Conditions before confirming a reservation or signing a contract. Ask the agent about restrictions on additional drivers, crossing state borders, one-way rental drop off charges.

Jericoacoara Off Road Adventure
For complete trip itineraries and more details!

Canoa Quebrada Off Road Adventure
For complete trip itineraries and more details!

Insurance Coverage
Some credit cards cover rental car insurance when you use their card do pay the rental bill. Your personal auto insurance policy may include a liability insurance clause. Check with the card provider and your auto insurance agent.
Most companies offer a Collision and Damage Waiver: Coverage against, collision, fire and theft. Regardless of who is at fault you may be subject to a deductible!
Another common option is Third Party Liability Coverage. Additional coverage for personal injuries or damages caused to third parties.
There could be a separate deductible attached to this!
Keep in mind that minor accidents are a common occurrence in Fortaleza. In the event of an accident do not move the car until the police arrive. By moving your car you may be held responsible for the other vehicle even if it is not your fault.
A police report is required by the Rental Company for all accidents, fire
and theft, or vandalism.
If you plan to let someone else drive. make sure you pay the additional Driver Fee. He or she will require a valid drivers license. The fee is usually only $ 2-3 per day.Insurance coverage will not be extended to unauthorized drivers.
Comparing Hertz & Localiza Car Rental Services
Daily Rates for Class A & C Cars / Insurance Coverage Rates
& Deductibles
The Fortaleza Car Hire Check List
Things to do and remember before driving off
in a Rent-A-Car!

Telephone/Whatsapp +55 (85) 99724-4111
Email: reservas@fortalezabeaches.com

Telephone/Whatsapp +55 (85) 99724-4111
Email: reservas@fortalezabeaches.com