The Best Fortaleza Bus Companies
Helpful advice on choosing the Best Fortaleza Bus Companies from Fortaleza Bus Station to the beaches along the Coast of Ceara including Jericoacoara and Canoa Quebrada.
I have friends and family who used to take buses from Fortaleza Bus Station to Jericoacoara and Canoa Quebrada regularly. The bigger Fortaleza Bus Companies usually leave from the Fortaleza Bus Terminal and need to be booked well in advance.
Your best option if you arrive in Fortaleza the day before your departure is with the smaller companies leaving from the Fortaleza hotels. Offering the same service without the need to buy a ticket in advance but need to book 24 hours in advance. You can pay the driver when you board the bus. The rates are less expensive and you have the convenience of leaving early from your hotel!
Here are a few of the recommended Fortaleza Bus Companies and booking agencies for To the most popular beach destinations along the Coast of Ceara.
FORTALEZA TRANSFERS & TOURS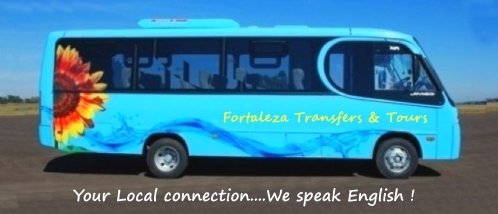 Departures for most destinations along the Coast of Ceara including Canoa Quebrada (R$ 50), Jericoacoara( R$ 75), Cumbuco, Lagoinha and Beach Park; daily departures between 7:00 A.M and 9:00 A.M from any Fortaleza Hotel. Need to book 24 hours in advance with your full name, and hotel by email or in the Whatsapp. You can pay the driver when you board the bus. They speak English and reserving is easy!

Whatsapp Telephone: (+55) 85 99724 4111 or Email: reservas@fortalezabeaches.com
FRETCAR BUS COMPANY
Has offices and departs from 3 locations. Fortaleza Bus Station, the Airport just past the taxis on the same level, and Beach Point on Avenida Beira Mar and Rua Osvaldo Cruz.
Fortaleza to Jericoacoara: You can buy your tickets at all 3 locations. They have two daily departures starting the trip from Beach Point, Meireles at 9:00 A.M, Airport 9:30 A.M, Fortaleza Bus Station 10:00 A.M. The second departing Beach Point, Meireles 5:30 P.M, Airport
6 P.M, Fortaleza Bus Station 6:30P.M. R$ 95.00 per person.
Schedules change in high and low Season.
Jericoacoara-Fortaleza: To Book your return trip in Jericoacoara. Inquire Rua São Francisco, 160, Jericoacoara. During high season book in advance!
SAO BENEDITO BUS COMPANY
Fortaleza-Canoa Quebrada:
Depart Fortaleza Bus Station at
8:30 A.M, 11:00 AM,13:40 P.M and
17:30 P.M. R$ 24.00 per person.
The trip takes around 3 1/2 hours.

Canoa Quebrada-Fortaleza: Depart at 6:00 A.M, 9:30 A.M, 12:30 P.M, 14:30 P.M and 17:30 P.M. R$ 24:00 per person. Trip 3 1/2 Hours.
Recommended: Sao Benedito is the only non-stop Fortaleza Bus Company that takes you all the way to Canoa Quebrada. The other companies drop you in Aracati (10 km from Canoa Quebrada) where you would have to take a taxi or mini-van (Topik) the rest of the way.

VIACAO NORDESTE BUS COMPANY
Fortaleza-Natal:
Fortaleza Bus Station departs 7 days a week at 5:00 A.M, 09:00 P.M, 12:00 P.M and 15:00 P.M (Saturdays 10:P.M). R$ 92.00. Sunday through Friday the 09;00 PM bus is Double Deck with 9 first class reclining seats on the lower level. R$ 155.00 one-way.Trip takes 8 hours.

Fortaleza Bus Station
What you need to know about getting to and using the Fortaleza Bus Station
Fortaleza Bus Travel
Helpul advice on buying your tickets and choosing the best buses.
Fortaleza Interstate Bus Companies
Tips on choosing the best Fortaleza Interstate Bus Companies to the bordering states, Maranhao, Belem de Para, Salvador, Fortaleza-Rio de Janeiro, Sao Paulo.



Telephone/Whatsapp +55 (85) 99724-4111
Email: reservas@fortalezabeaches.com

Telephone/Whatsapp +55 (85) 99724-4111
Email: reservas@fortalezabeaches.com