The Best Canoa Quebrada Hotels
The
Canoa Quebrada Hotel Guide
is a
LOCAL
guide! Unlike most guides we list only the best Canoa Quebrada Hotels. Hotels that are most popular, recommended, and visited by people who live and work in and around Fortaleza, Ceara.
---
HOTEL LONG BEACH * * * *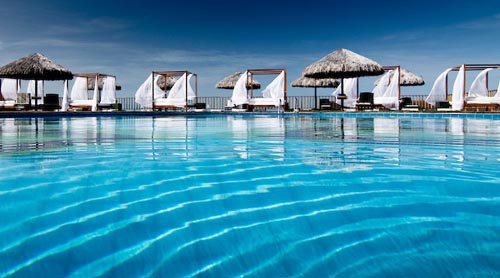 The Hotel Long Beach is perfectly located with panoramic views of the sea and the surrounding village. Within easy walking distance of Canoa Quebrada's incredible beach and nightlife.
While the Long Beach has a steady flux of visitors year round.The owners and management claim that being based in Canoa Quebrada keeps them focused on delivering the highest standard of comfort 365 days a year.
For more photos, reviews and the lowest rates for the Hotel Long Beach click here.
---
IL NURAGHE HOTEL * * *
The Il Nuraghe Hotel opened its doors to the public in December 2009 and is already considered one of the best accommodation choices in the village, offering its guests all that an excellent hotel should and much more.
The Hotel Il Nuraghe shares all the magic of Canoa Quebrada without forgetting the environement. The beautifully decorated suites completely encirle an amazing 35 meter swimming pool. For more details, photos and reviews for the
Il Nuraghe Hotel click here.


FORTALEZABEACHES.COM is registered with the Ministry of Tourism.
Embratur Certification. No. 06.026202.10.0001-7.

Telephone/Whatsapp +55 (85) 99724-4111
Email: reservas@fortalezabeaches.com

Telephone/Whatsapp +55 (85) 99724-4111
Email: reservas@fortalezabeaches.com