Il Nuraghe Hotel
Canoa Quebrada Brazil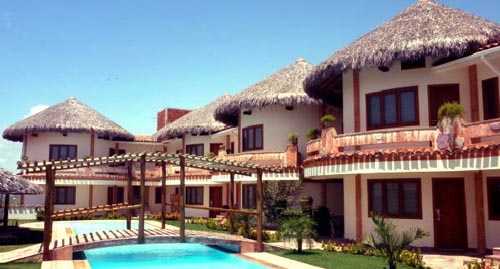 The Il Nuraghe Hotel Canoa Quebrada opened its doors to the public in December 2009 and is already considered one of the best accommodation choices in the village, offering its guests all that an excellent hotel should and much more.
| | |
| --- | --- |
| Perfectly located, only 100 meters from Broadway, the main focal point of the Canoa Quebrada nightlife and 250 meters from the infamous beach. | |
The Hotel Il Nuraghe shares all the magic of Canoa Quebrada without forgetting the environement. The beautifully decorated suites completely encirle an amazing 35 meter swimming pool.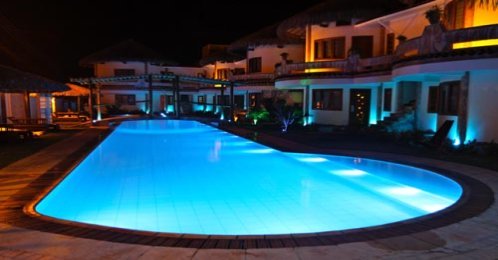 The IL Nuraghe Hotel Canoa Quebrada swimming pool.
The swimming pool utilizes solar heating and solar iluminination with LED technology, requiring a minimum consumption of energy, while adding to the natural beauty of the hotel's landscaped gardens.
| | |
| --- | --- |
| The Il Nuraghe Canoa Quebrada Hotel features a health spa complete with massage room, sauna, whirlpool and heated swimming pool. | |
Inspired by the ancient dwellings of Sardinia, Italy known as NURAGHE, this hotel offers both comfort and tranquility.

Canoa Quebrada's beach is internationally famous with unforgettable landscapes.




Il Nuraghe Hotel Canoa Quebrada


All apartments include air conditioning, satellite TV, safe, minibar, king size bed, large private bathroom w/double sink and a separated sleeping area for extra guests.


SERVICES & FACILITIES


• 35 Meter Swimming Pool

• Poolside Snack Bar

• Full Breakfast Buffet

• Apartments/Suites complete with Air Conditioning, Cable TV & Mini Bar

• Health Spa w/Sauna, Hydro Massage & Heated Pools

• Free Wireless 24 hours (includes hotel and pool area)

• Laundry Service

• Safe

• Beauty Parlor & Massage Room

• Health Spa
Il NURAGHE HOTEL
Rua Descida da Praia
Canoa Quebrada,
Aracati-Ceara-Brazil


FORTALEZABEACHES.COM is registered with the Ministry of Tourism.
Embratur Certification. No. 06.026202.10.0001-7.

Telephone/Whatsapp +55 (85) 99724-4111
Email: reservas@fortalezabeaches.com

Telephone/Whatsapp +55 (85) 99724-4111
Email: reservas@fortalezabeaches.com