Vila Gale Hotel Cumbuco
Ceara Brazil
The
Vila Gale Hotel Cumbuco
is 4 a 4 Star Luxury Hotel Complex that includes an area of 450 hectares, 40 km from Fortaleza International Airport.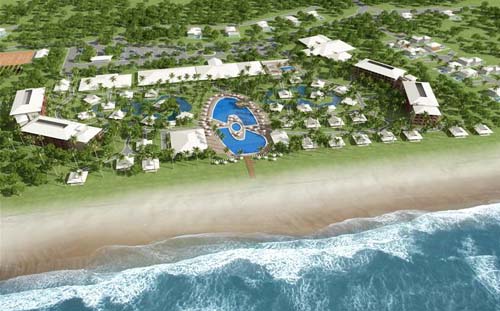 The Vila Gale Hotel Cumbuco along with its "Clube Nautico" includes over 200 square meters of space devoted to diving, windsurf, kite surf, body board, snorkeling and surfing. The region is considered one of the best for dune buggy rides and kite surfing.
The Vila Gale Hotel Cumbuco
is the first resort to be built
at this comfort level along
this beautiful stretch of beach.


A few of the cities most famous
"Barracas" Bar-Restaurants are
within walking distance of the hotel.
"Satsanga Spa Med" is the first resort within the Vila Gale group to include a Medical Spa devoted to vitality and longevity. Offering guided programs with multidisciplinary equipment, practiced under the supervision of a sports and exercise medical specialist.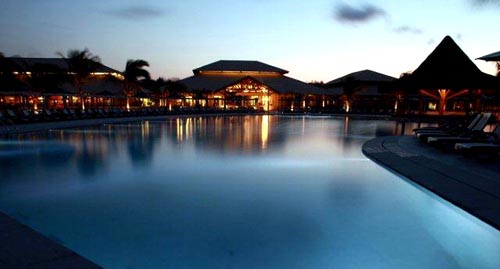 Guests can enjoy the crystal clear fresh water of the hotel's 2.2 million square meter swimming pool.
The resort boasts an immense Kid's Club with space exclusively for children's recreation
and a large selection of organized activities including games, playground, TV and cinema.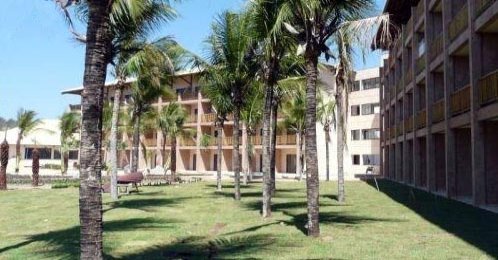 The Vila Gale Hotel Cumbuco includes 465 rooms, including apartments and chalets, four restaurants, five bars, a spa, shops, business center, nightclub, games room, library, convention center, kids club and sailing center. The hotel openned its doors to the public October 5, 2010.
International Restaurant

A wide variety of International
and Regional dishes are carefully
prepared and served in both
Buffet and A La Carte styles.


The wine list is one of the most comprehensive in Cumbuco, with an international selection to compliment the cuisine and enhance your dining experience.
The complex includes two resorts, various structures along the beach, a shopping area, condominiums, sport and recreation center, schools, a 9 hole golf course, driving range and cultural center.
The hotel followed responsible and sustainable tourism guidelines during construction in preserving and protecting the surrounding environment.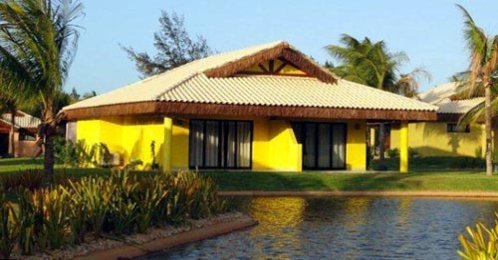 The
Vila Gale Cumbuco
Hotel has 465 apartments all designed for maximum comfort and fully equipped with everything that is required to make your visit to Cumbuco a pleasant one.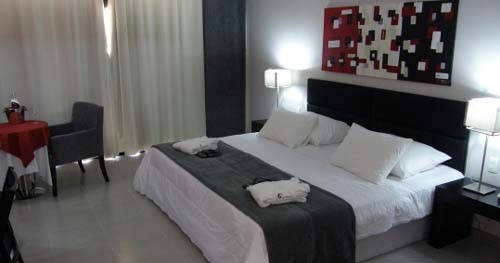 The Vila Gale Hotel Cumbuco Has changed the direction of tourism for Cumbuco and the region finally putting the state of Ceara on the world tourist map.
465 ACCOMMODATION UNITS
392 Apartments
24 Suites
15 Chalets Master Suites (with Jacuzzi)
17 Chalets (34 units)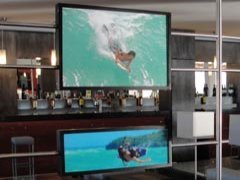 . Air conditioning
. Hairdryer
. Direct dial phone
. Beauty Mirror
. 32 "LCD
. Internet Connection
. Safety box
. Electronic security lock
. Minibar
. Balcony with hammock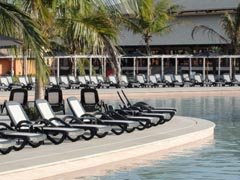 . Restaurant Versatile
(Buffet)
. Euphoria Lobby Bar
. Divine-Mezzanine
Restaurant
. Restaurant / Bar da Praia
Cajuina & Siriguela
. Inevitavel
Restaurant & Bar
. Soul & Blues Nightclub
. Kite Bar - Pool Bar

Facilities
. Outdoor Swimming Pool (adult & children's)
. SPA Satsanga - with aesthetic treatments, health, massage,indoor pool,
beauty salon, yoga, sauna, Turkish bath and jacuzzi.
. Nautilus Center with diving, windsurfing, kite surfing,
body boarding, snorkeling and surfing.
. 2 Tennis courts
. Multisport Field
. Gym / Fitness center
. Activities for children and adults;
. (Children's Club) with pool, playground, babies food kitchen,
baby sitter and animation team.
. Parking
. Shops
. Business Center
. Library
. 24-hour security

Convention Center
. Lawn area for events - 5,800 m2
. Support block for the lawn area with kitchen service
and bathrooms
. Vila Gale Lounge(Master)– 520 m2
. Mars Lounge(Master) - 390 m2
. Salvador Lounge (Master) - 260 m2
. Fortaleza Lounge (Master) - 130 m2
. Angra Lounge– 40 m2

VILA GALE HOTEL
Rua Lagoa das Rosas
Praia do Cumbuco
CEP 61.600-00
Municipality of Caucaia
Cumbuco-Ceara Brazil
To see more photos, reviews and check rates at the Vila Gale Hotel Cumbuco click here.


FORTALEZABEACHES.COM is registered with the Ministry of Tourism.
Embratur Certification. No. 06.026202.10.0001-7.

Telephone/Whatsapp +55 (85) 99724-4111
Email: reservas@fortalezabeaches.com

Telephone/Whatsapp +55 (85) 99724-4111
Email: reservas@fortalezabeaches.com