Fortaleza Adventure Travel Company
The Fortaleza Adventure Travel Company is located in Fortaleza Brazil, specializing in custom adventure travel and special interest travel overland.
Our services include airport to hotel transfers, overland transport from Fortaleza to destinations throughout the state of Ceara and beyond to most capital cities in northeastern Brazil.

Fortaleza Adventure Travel trips range from budget to luxurious and include regularly scheduled weekend trips, special interest tours, custom adventure trips, and extended overland excursions.
Our clients are individuals, families, and groups that contact us direct, by referral, or through travel agents, tour operators, and destination management companies around the globe.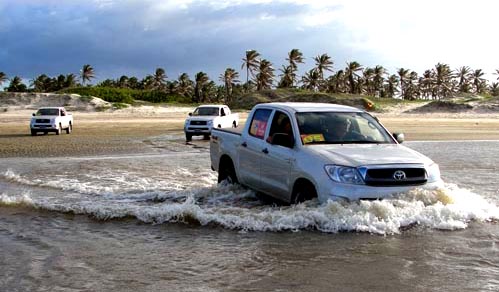 Why you should choose to travel off-road !
The Coast of Ceara includes 640 kilometers of South America's most spectacular beaches. Although most of the fishing villages have paved access, there are almost no paved roads running parallel in close proximity to the ocean, making an off-road vehicle the only practical way to explore the region.
Jericoacoara Off Road Adventure
For complete trip itineraries and more details!
Canoa Quebrada Off Road Adventure
For complete trip itineraries and more details!
Many who come to Ceara Brazil for the first time are often disappointed by the amount of time lost traveling long distances by highway between destinations.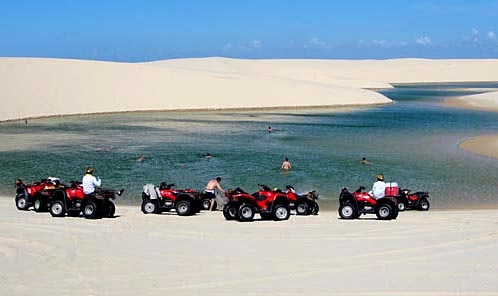 Traveling off-road along the beaches gives our guests a completely different perspective and the best opportunity to discover the beauty of the Coast of Ceara.
Why you should choose to travel with us !
Our staff truly believes that the fun and excitement of your travel adventure should begin during the planning stages and that the best trips always begin with a good plan. Where to go, how to get there, and who to go with are all important ingredients of a good plan.
The Fortaleza Adventure Travel Company is family owned and operated. Entering in contact with our staff on location in Fortaleza gives you the opportunity to keep the costs down with no unnecessary intermediaries.
We take great pride in doing the best we can at all times. Our goal is to make every trip a life long memorable experience, with the hopes that our guests will return one day and feel comfortable recommending us to friends.
A Fortaleza Adventure Travel Company staff member is online 7 days a week to answer any questions and help you plan your itinerary. Just send us an email or send us a message in the Whataspp!.
We look forward to having you on board !
For more information and details send an email: reservas@fortalezabeaches.com
direct to THE FORTALEZA ADVENTURE TRAVEL COMPANY.


Ministry of Tourism. Certification. No. 06.026202.10.0001-7.

Telephone/Whatsapp +55 (85) 99724-4111
Email: reservas@fortalezabeaches.com

Telephone/Whatsapp +55 (85) 99724-4111
Email: reservas@fortalezabeaches.com