Fortaleza Taxi Fares & Destinations
FORTALEZA TAXI FARES FROM FORTALEZA INTERNATIONAL AIRPORT
Bandeira (Flag) 1 :
Weekdays (6 A.M. to 8 P.M.),
Saturday's (6 A.M. to 1 P.M.)
Bandeira (Flag) 2 :
Weekdays (8 P.M to 6 A.M.),
Saturdays (after 1 P.M.), Sundays and Holidays.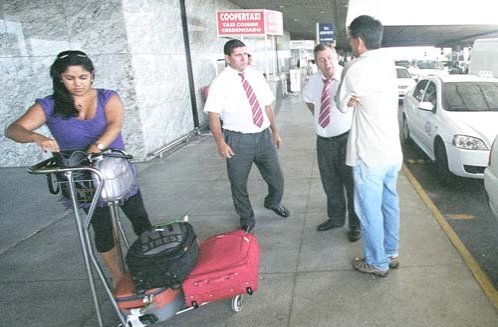 Passengers negotiate a fare with the Fortaleza Airport Taxi Drivers
Fortaleza Airport-Hotel Private Taxi Service anywhere click here !
Passengers will be welcomed by the driver holding a sign with
their name on it. Payable upon arrival in your destination.
Airport / Beach Park R$ 85,00
ZONE 1
Flag (Bandeira) 1 R$ 23.00 / Flag (Bandeira) 2 R$ 35.00 Weekends and Holidays 50 % higher
DESTINATIONS: Aeroporto, Aerolandia, Alto da Balanca, Bom Futuro, Bela Vista, Benfica, Couto Fernandes, Castelao, Damas, Dendê, Demócrito Rocha, Dias Macedo, Itaperi, Itaoca, Joquey Club, Jardim America, Montese, Maraponga, Parreão, Parque Dois Irmaos, Pan Americano, Parangaba, Pici, Rodolfo Teofilo, Serrinha, Vila Uniao.
ZONE 2
Flag (Bandeira) 1 R$ 35.00 / Flag (Bandeira) 2 R$ 50.00 Weekends and Holidays 50 % higher
DESTINATIONS: Amadeu Furtado, Alagadico, Sao Gerardo, Antonio Bezerra, Aldeota, Autran Nunes, Alvaro Weyne, Barroso, Bom Jardim, Bom Sucesso, Cajazeiras, Conjunto Prefeito Jose Walter, Centro, Cidade dos Funcionarios, Conjunto Esperanca, Cristo Redentor, Canindezinho, Carlito Pamplona, Conjunto Ceara I, Conjunto Ceara II, Cambeba, Dom Lustosa, Dionisio Torres, Engenheiro Luciano Cavalcante, Farias Brito, Fatima, Floresta, Genibau, Granja Lisboa, Granja Portugal, Guararapes, Henrique Jorge, Jardim Cearence, Jose Bonifacio, Jacarecanga, Joao XXIII, Joaquim Tavora, Jardim Iracema, Jardim Guanabara, Jardim das Oliveiras, Mata Galinha, Mondubim, Moura Brasil, Messejana, Monte Castelo, Parquelandia, Passare, Parque Araxa, Presidente Kennedy, Parque Sao Jose, Padre Andrade, Parque Iracema, Parque Manibura, Parque Santa Rosa, Pirambu, Parque Presidente Vargas, Quintino Cunha, Salinas, Sao Joao do Tauape, Vila Peri, Vila Manuel Satiro, Vila Ellery e Vila Velha.
ZONE 3
Flag (Bandeira) 1 R$ 78.00 / Flag (Bandeira) 2 R$ 115.00 Weekends and Holidays 50 % higher
DESTINATIONS: Ancuri; Barra do Ceara; Cais do Porto; Cidade 2000; Coacu; Coco; Curio; Dunas; Edson Queiroz; Guajeru; Jangurussu; Lagoa Redonda; Meireles; Mucuripe; Palmeiras; Papicu; Paupina; Pedras; Praia de Iracema; Praia do Futuro I; Praia do Futuro II; Sabiaguaba; Sapiranga/ Coite; ; Siqueira; Varjota; Vicente Pizon.
ZONE 4
Flag (Bandeira) 1 R$ 90.00 / Flag (Bandeira) 2 R$ 120.00 Weekends/Holidays 50 % higher

DESTINATIONS: Porto das Dunas (Beach Park) - Eusebio - Maracanau - Icarai
Fortaleza Taxi Service
Helpful tips and advice getting around Fortaleza by taxi.
Paying and calculating local fares and more.
Fortaleza Taxi Service Destinations
A complete list of destinations and distances from the airport to Fortaleza Beaches
along the Coast of Ceara.
Fortaleza Airport Taxi Service
How to use Fortaleza Airport Taxi Service to get to Fortaleza hotels and beaches.
Including Canoa Quebrada and Jericoacoara.
---

Telephone/Whatsapp +55 (85) 99724-4111
Email: reservas@fortalezabeaches.com

Telephone/Whatsapp +55 (85) 99724-4111
Email: reservas@fortalezabeaches.com