The Fortaleza Beach Bar
"CrocoBeach"

Why " CrocoBeach " is My Favorite Fortaleza Beach Bar !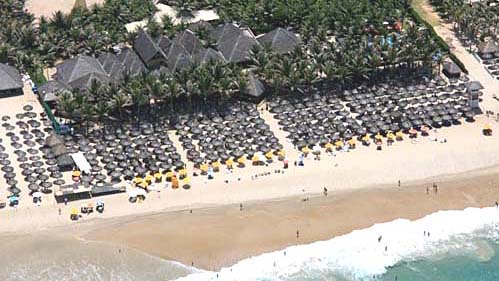 The Crocobeach is my favorite Fortaleza Beach Bar Restaurant
on Praia do Futuro for a variety of good reasons!
Here's my Sunday afternoon shortlist!
The Fortaleza Beach Bar "Crocobeach" is located on Praia do Futuro, the most popular Fortaleza city beach, an obligatory stop for any visit to Fortaleza.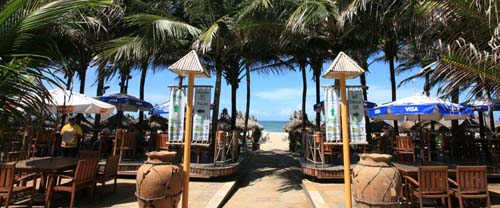 Polynesian style umbrellas with adjoining tables and chairs that go right up to the surf!
GREAT FOOD !

Specializing in local fresh seafood dishes with a friendly attentive staff to go along with it.

Which means no down time between beers (very important)!
More reasons why Crocobeach is my favorite Fortaleza Beach Bar !
A swimming pool for when you don't feel like getting bounced around by the waves.

An Aquatic Park to keep the kids busy!
Shops, a Beauty Center, and Internet Cafe, for those who are combining business with pleasure or want to stay in touch with loved ones back home. Leave your lap top at the hotel!
LIVE ENTERTAINMENT
For the locals the Fortaleza Beach Bar "Crocobeach" is synonymous with words like fun,
party and live entertainment !!

The best regularly scheduled Live Shows in Fortaleza, every Tuesday, Thursday and Saturday! Featuring Fortaleza's most talented entertainers! Including Dona Zefa and the Tony Veras Band.
Follow these three simple steps to having the most fun possible during your stay in Fortaleza!
1. Watch the Short Video
on You Tube (below)!

2. Book your Hotel on
Praia do Futuro

3. Spend as much time
possible at the Crocobeach!
For more information or to make a reservation for a party or your travel group send an email to reservas@fortalezabeaches.com (The Management speaks English)
If you still haven't booked your accomodation the Marbello Ariau Hotel is across thee street on the beach with all the comforts of home. Has discounted rates for extended stays and has long been considered one of the best hotels on Praia do Futuro!

Telephone/Whatsapp +55 (85) 99724-4111
Email: reservas@fortalezabeaches.com

Telephone/Whatsapp +55 (85) 99724-4111
Email: reservas@fortalezabeaches.com