Marbello Ariau Hotel
Praia do Futuro Fortaleza
The Marbello Ariau Hotel Praia do Futuro is the place to stay while visiting Fortaleza. Here's why! If you want to be near the city and still be able get in as much time on the beach as possible.
The hotel is conveniently located on Praia do Futuro. Which is easily Fortaleza's most popular city beach.

Busy year round with both Brazilians and foreigners for everything from getting a tan to just about every kind of water sport you can think of!
Whether you are here on business or pleasure. Traveling as a family, a couple, or alone.

The hotel is a good value across the board. The staff is friendly and conscientious.
The Marbello Ariau Hotel Praia do Futuro has 104 modern design suites which include air conditioning, king size beds, hot water, frigobar, tv and individual safes. The rooms are spacious and clean.
Conventions & Events

The grounds and well kept gardens are spread over 2 acres and include a restaurant, bar, and swimming pool.

The convention auditorium has a capacity for 260 people and is available for travel groups and business conventions.
An excellent buffet breakfast is served in the hotel restaurant between 6.00 a.m. & 10.00 a.m.

The hotel offers free transport to the handicrafts fair on the Beira Mar, Monday thru Saturday at 5:30. Return at 7:30 p.m. (Minimun 4 passengers).
Nearby Dining and Entertainment


The infamous Barraca (Restaurant-Bar) "Croco Beach" is just across the street from the hotel. One of the most popular places along the Praia do Futuro to be. Open daily for lunch or just lounging on the beach. For dinner, Tuesdays, Thursday, and Saturdays with live entertainment.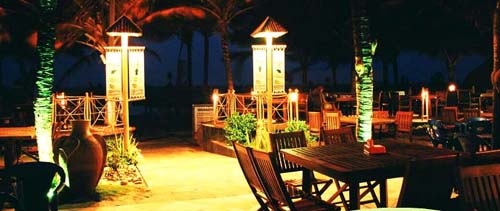 When the British rock group Nazareth was on tour in Brazil in May of 2008. They spent the weekend at the Marbello Ariau Hotel Praia do Futuro and made a special guest appearance at the "Croco Beach".
FORTALEZABEACHES.COM has a special deal worked out with both the Marbello Ariau Praia do Futuro and the Croco Beach.

Mention our website when you make your reservation at the hotel to receive a discount and a free pass to shows at the "CrocoBeach"
Please Note: You must present a voucher from the hotel before entering the CrocoBeach.

Marbello Ariau Hotel
Rua Dr. Eleizeu de Holanda, nº 20,
Praia do Futuro, Fortaleza - Ceara
Cep: 60.182-340
---


FORTALEZABEACHES.COM is registered with the Ministry of Tourism. Embratur Certification. No. 06.026202.10.0001-7.
---

Telephone/Whatsapp +55 (85) 99724-4111
Email: reservas@fortalezabeaches.com

Telephone/Whatsapp +55 (85) 99724-4111
Email: reservas@fortalezabeaches.com