Marina Park Hotel


Panoramic view of the hotel grounds and Fortaleza skyline.
The Marina Park Hotel Fortaleza is oceanfront with the best night clubs, restaurants,
the Dragao do Mar Cultural Center, and the city center all within 5 minutes by taxi.
All that you would expect in a 5 Star Hotel and more. With most of the cities main attractions close by.

After you check in and take a short walk around the grounds of this amazing place. You may find that you never want to leave.
To categorize Marina Park as just a Hotel could be misleading.Urban Resort would be closer to the mark.

Covering an area of 4 hectars along Iracema Beach. Gives its guests the freedom and space to enjoy all that
it has to offer.
With 315 apartments and suits, pools, bars, restaurants, fitness center, a 2.5 km jogging course, 4 tennis courts and a beauty parlor. There really is nothing to compare it to in Fortaleza.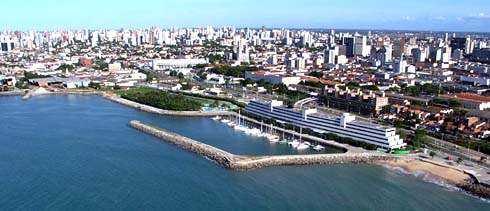 Conventions & Events

Marina Park is well known for hosting nationally televised concerts and media events.

The Atlantic Hall is designed for events and conventions for up to 2000 people. There are
five other auditoriums with capacities of 500,
200, 150, 50 and 25.
The Hotel Marina

For boat lovers or those arriving in Fortaleza by way of the sea. The hotel's modern marina has a capacity for 150 yachts.

With security, and the necessary infrastructure for crew members.
Water energy hookup, telephone
service, repairs, and supplies.
Restaurants

The Coffee Shop serves an excellent regional breakfast in buffet style.

La Marine French & International cuisine with an A La Carte menu and excellent
wine list (below).

Check availability at promotional rates and make your reservation for the Marina Park Hotel Fortaleza with BOOKING.COM. Best Rate Guaranteed. Payment by clients is always directly with their chosen hotel and in accordance with that hotel's reservation policy.



FORTALEZABEACHES.COM is registered with the Ministry of Tourism. Embratur Certification. No. 06.026202.10.0001-7.
---

Telephone/Whatsapp +55 (85) 99724-4111
Email: reservas@fortalezabeaches.com

Telephone/Whatsapp +55 (85) 99724-4111
Email: reservas@fortalezabeaches.com