Vila Gale Hotel
Praia do Futuro - Fortaleza
The
Vila Gale Hotel-Praia do Futuro
has a piece of Fortaleza's best beach reserved for its guests! Only 10 minutes from the"Beira Mar"and the cities best night clubs and restaurants. It's a perfect setting with the recreation and pool area overlooking Praia do Futuro.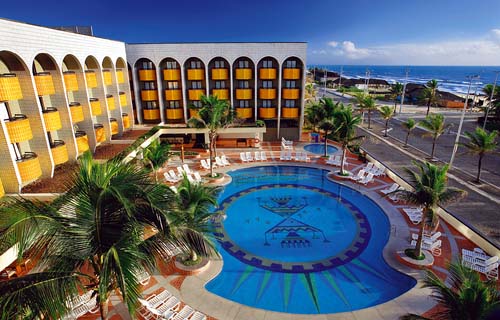 Vila Gale Hotel Praia do Futuro is considered the best hotel in both the 4 & 5 star categories along this beautiful stretch of beach.
A few of the cities most famous "Barracas" Bar-Restaurants are within walking distance of the hotel.

Popular for everything from lounging and dining on the beach by day to live music shows and dancing in the evening.

The Vila Gale Hotel Praia do Futuro's strategic location gives its guests the opportunity to spend as much time as possible on the beach and still be within easy reach of the city.
International Restaurant

A wide variety of International and Regional dishes are carefully prepared and served in both Buffet and A La Carte styles!

The international wine list is one of the most comprehensive in Fortaleza, specifically selected to compliment the cuisine and enhance your dining experience!
The hotel is decorated with a variety of Brazil's natural resources such as decorative rock and stone, wood, wicker, tropical plants and coconut trees.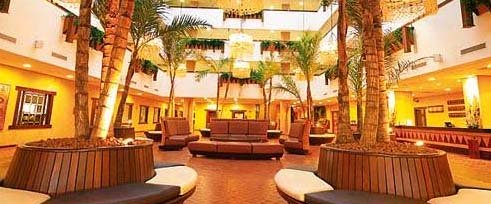 The Vila Gale Hotel Praia do Futuro has 300 apartments all designed for maximum comfort and fully equipped with everything that is required to make your visit to Fortaleza a pleasant one!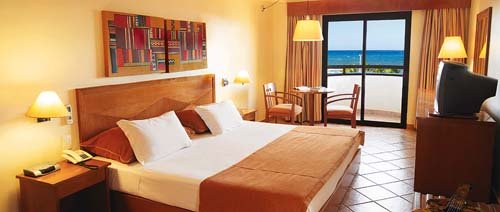 All Rooms & Suites have Verandas with Tables and Chairs, Air Conditioning,
. Satellite TV
. Direct Telephone
. Telephone in W.C.
. Music Channel
. Mini bar
. Hair Dryer
. Safe
. Fax / Modem Connection
. Electronic Safety Lock
. 24hr Room Service
The Suites have a Kitchenette with Microwave and Stove, DVD and Alarm-radio-watch.
FACILITIES & SERVICES

. Dunas Restaurant
. Mares Lobby bar
. Beach Restaurant-Bar
. Pool Bar

.Outdoor Pool for adults
& children
. Game Room
. Children's Playground
. Nep Kids Club
. Shops
. Hairdresser'
. Tobacconist'
. Travel Agent

. Laundry service
. Baby playpen
. Garage
. Parking Lot
. Wheelchair access

Health Club includes:
. Jacuzzi,
. Sauna,
. Turkish bath,
. Massages,
. Gymnasium)

Activities
. Beach
. Water sports
. Monuments
. Discos & Bars
. Excursions
. Tennis Court
. Animation
. Live music




Events

Meeting Rooms
Business Center
Wireless Internet Zone
Internet Terminals
VILA GALE HOTEL
Praia do Futuro
Av.Dioguinho, 4189
Cep 60182.000
Fortaleza - Ceara
---


FORTALEZABEACHES.COM is registered with the Ministry of Tourism. Embratur Certification. No. 06.026202.10.0001-7.
---

Telephone/Whatsapp +55 (85) 99724-4111
Email: reservas@fortalezabeaches.com

Telephone/Whatsapp +55 (85) 99724-4111
Email: reservas@fortalezabeaches.com