Vila Kalango Hotel Jericoacoara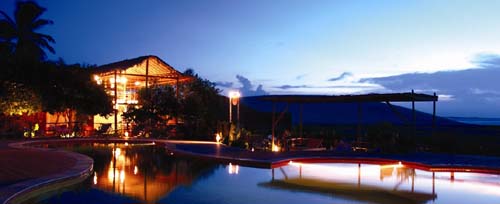 The Vila Kalango Hotel Jericoacoara has been considered one of the best places to stay in the village since it opened in 1999. Offering its guests everything a good hotel should and then some.
Seven of the hotel's bungalows are built on stilts high above the ground surrounded by coconut and cashew
nut trees.

Leaving nothing but the sea breeze to separate you from the fairytale setting that makes Jericoacoara so special.
The
Vila Kalango Hotel Jericoacoara
is situated in a perfect oceanfront location. Complete with amazing views in every direction of one of Brazil's most famous beaches and sunsets.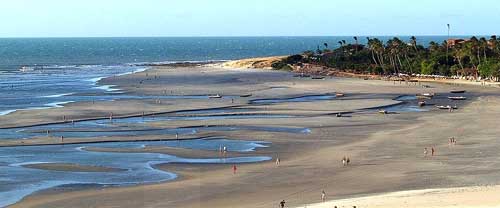 Jericoacoars's beach has made the worlds top ten most beautiful beaches list in various international publications, including the New York Times.
Watching the sunset has become some what of a ritual in Jericoacoara, and is considered one of the best in the entire state of Ceara.

With everyone making their way
to the top of dunes overlooking
the village and sea around 5:30 P.M.


For those who are not afraid to try something different, this is about as close to a Tarzan or Robinson Crusoe adventure as it gets! And better yet, with all the 4 Star levels of comfort included.

The
Vila Kalango Hotel Jericoacoara
is within easy walking distance of the village restaurants and nightlife !
SERVICES & FACILITIES
* Swimming pool bar and restaurant bar
* Restaurant specializing in Brazilian cuisine with a Mediterranean influence
* Breakfast is served with a wide variety of: fruits, juices, breads, home
made cakes and cooked food
* Every room is equipped with ceiling fans, mini bar
* "Standard" and "Comfort" apartments have air conditioning and solar powered showers
* 19 meter swimming pool with sea and sand dune views
(bathing towels included)
* Lounge with hammocks, sofas, billiards and other games.
*Tea and coffee service after 1:00 pm
* Massage room in the garden, with qualified masseur
*; Beauty parlor with massages and salt baths
* Cable TV room
* Local art store
* Wireless Internet connection 24 hours, R$ 20,00 no time limit
* Cyber Cafe
* Laundry service available
• Secure windsurf and kitesurf equipment store, including transport and cleaning service (transport to Prea beach not included in the daily rate)
* Surfboard, windsurf, kitesurf and kayak equipment for hire
Check availability at discounted rates for the Vila Kalango Hotel Jericoacoara....


FORTALEZABEACHES.COM is registered with the Ministry of Tourism.
Embratur Certification. No. 06.026202.10.0001-7.
---

Telephone/Whatsapp +55 (85) 99724-4111
Email: reservas@fortalezabeaches.com

Telephone/Whatsapp +55 (85) 99724-4111
Email: reservas@fortalezabeaches.com