Beberibe Ceara
Beberibe Ceara is 83 kms from Fortaleza along highway CE-040. Known by the Cearense for having one of the states best Carnivals. The name "Beberibe" originates from the Tupi Indian language and means "where the sugar cane grows".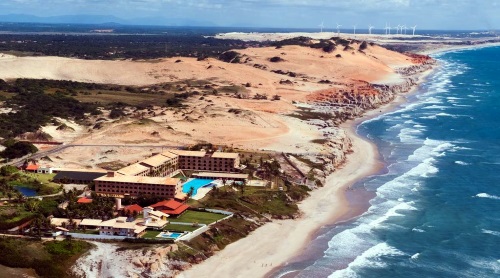 Aerial view of the Hotel Coliseum Praia das Fontes
The Praias of Beberibe are natural works of art. In addition to the scenographic beauty of the landscapes, there are marvelous sea cliffs, a beautiful lake and endless square kilometers of wide open country.
Large Brazilian investment firms
have taken an interest in the area and there are a few projects in progress.

The "Complexo Turistico" on the Praia do Uruau will include a golf course, aquatic park, gymnasium airstrip and much more.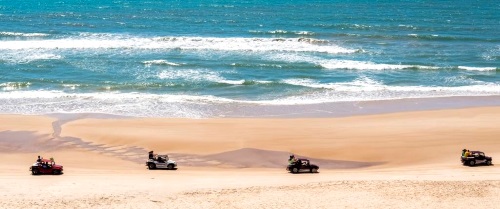 Dune Buggys on the beach Beberibe Ceara
There are precious stones to be found along the Rio Pirangi yet the main attraction here are the beautiful beaches. Praia das Anjos (Beach of the Angels) has become nationally known after appearing on the Brazilian TV program "No Limite"!
Praia de Morro Branco

The principal beaches have
a good selection of quality
hotels and restaurants.

Praia das Fontes is one of the most popular choices with the wide range of facilities it makes available to its guests .

Telephone/Whatsapp +55 (85) 99724-4111
Email: reservas@fortalezabeaches.com

Telephone/Whatsapp +55 (85) 99724-4111
Email: reservas@fortalezabeaches.com